Volunteer Opportunities
Teach a Repair Class!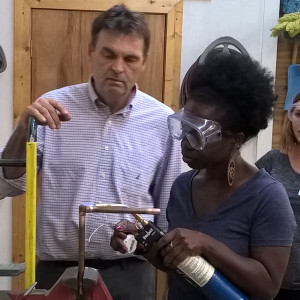 Home Repair Resource Center provides opportunities for volunteers — current or retired professionals and tradespeople, or others with expertise in repair specialties — to teach home repair classes for homeowners.
The classes are provided through HRRC's Project Repair program and Home How-To program, both of which offer "hands-on" instruction in basic home repairs. By practicing with appropriate tools and techniques, workshop participants gain knowledge, skills, and confidence in their ability to tackle the project.
Most classes will be held in HRRC's Teaching Center, which has ample space for demonstrations and hands-on practice. The instructor will work with HRRC to detail the skills to be taught and identify handouts and tools to be provided by HRRC. The instructor will purchase any materials needed and will then be reimbursed for the cost.
This cooperative relationship can strengthen the community — HRRC will be able to expand the classes we offer to community residents through our Project Repair program, and the instructor will benefit from increased exposure to potential customers and/or an opportunity to give back to the community. We invite any potential instructors to arrange a time to tour our facilities; call (216) 381-6100, ext 16 or email pwetherill@hrrc-ch.org
---
Volunteer In-House!

Whether you have a lot of time to contribute — or just a bit — you can help facilitate Home Repair Resource Center's community mission and be part of "keeping Cleveland Heights in good repair." Volunteer opportunities include:
Help with upkeep of our building by volunteering for interior painting or yard and garden work
Staff our receptionist desk for three hours per week
Serve on a board committee
Assist with fundraising
Assist in preparing bulk mailings or in performing other office tasks
If you are interested in volunteering, please call 381-6100, or drop by our facility at 2520 Noble Road (two blocks north of Monticello, at the corner of Oxford Road).