Home Buyer Classes
Our interactive workshop series will help you develop your money skills, provide you with strategies for improving your credit, teach you how to protect your home investment, and prepare you for home purchase or refinance.  If you complete all classes in the series, you will be eligible for FREE housing counseling and Down Payment Assistance.
Home Buyer Education Series Schedule
Date
Time
Class Title
Monday, July 3
Tuesday, Aug 8
6-8 pm
Assessing Affordability and Readiness
Monday, July 10
Tuesday, Aug 15
6-8 pm
Understanding Credit and Building Credit to Obtain a Mortgage
Monday, July 17
Tuesday, Aug 22
6-8 pm
Understanding Mortgages and Loan Processing
Monday, July 24
Tuesday, Aug 29
6-8 pm
Preparing for Closing and Home Maintenance Responsibilities
Classes are open to all Ohio residents. Reservations are required.
Reserve your seat by calling (216) 381-6100, ext. 14.
You will not need materials for the workshop.  All classes are FREE.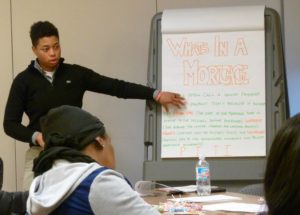 All classes held at
Cleveland Heights Main Library
2345 Lee Rd, Cleveland Heights, OH 44118
In the Boardroom above the Dobama Theater.  Next to the Heights Knowledge and Innovation Center (HKIC)
Eligibility for Free Housing Counseling and Down Payment Assistance
When you complete all classes, you are eligible for free Housing Counseling plus a Certificate of Completion that qualifies you to participate in Down Payment Assistance.   In order to obtain the certificate of completion needed for down payment assistance programs, a $75.00 fee will be due at the end of the series.
---
---
Home Buyer Education Program
Home Repair Resource Center' Home Buyer Education Program couples classroom instruction with one-on-one counseling to prepare home buyers to purchase a home. Experienced housing counselors provide individual guidance and counseling to assist prospective buyers through the home buying process and prepare them to purchase their first home –- confidently and successfully.
The easy-to-follow curriculum encompasses eight hours of classroom instruction and includes  information on budgets and credit, preparing for mortgage application, eligibility requirements for down payment assistance programs, foreclosure prevention, and home maintenance. Classes are scheduled throughout the year.
Home Repair Resource Center is a HUD-approved counseling agency, and the curriculum for our Home Buyer Classes meets industry standards for Homeownership Education and Counseling. Our Home Buyer Education Program is free and open to all Ohio residents.