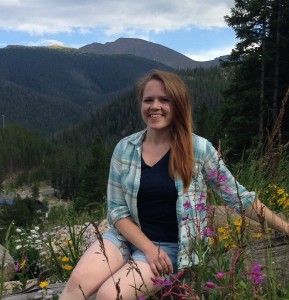 Young? Check. Energetic? Check. Passionate about social justice? Check. If your image of a Board Member is an old, fusty, retiree, think again! The Home Repair Resource Center is blessed with a Board of Trustees full of energetic, engaged, and decidedly un-fusty people. The Board is involved with programming, fundraising, and making sure we stay on solid financial ground while we stay true to our mission. Every so often, we stop and thank one of them, and show you the person behind the title—as we're doing now with Board member Charity McDonald.
The first thing you notice when you meet Charity is her smile, closely followed by her warm personality. Charity is the Volunteer Service Manager of the Hospice of the Western Reserve. She's also active in the Northeast Ohio Returned Peace Corps Association (did we mention her passion for social justice?) and she serves as an elder at Forest Hill Church. Charity lives with her sister in Cleveland Heights, and she is active
In fact, her involvement with Forest Hill Church is what led her to join the HRRC Board. Forest Hill Church's commitment to social justice and outreach impressed Charity; when she joined their Justice & Mission ministry she learned of the church's connection to HRRC. It was an easy sell when she was approached as a potential Board member, and she has served on the Board of Trustees since June 2014.
When asked what her most meaningful experience as a board member has been, she quickly responds, "It's definitely meeting class participants, staff, and other community members who have used the services of HRRC. It is amazing to see how this organization has impacted the community. I love hearing all the stories!" Charity recognizes that HRRC faces challenges, but she is characteristically optimistic. She explains, "Many younger people are waiting longer to buy houses. HRRC has the opportunity to reach out to them and offer support and resources to make homeownership less scary."
HRRC is grateful and proud to have Charity McDonald on our Board of Trustees!