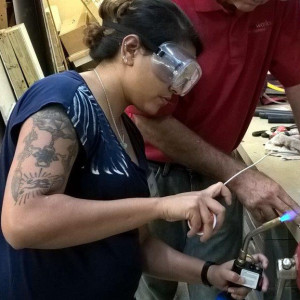 Priyanka and Ryan bought their first house in February of this year. She soon enrolled in HRRC's Home How-To for Women: Carpentry classes, explaining, "My dear friend Shelby told me about it, and I was interested in learning skills which would empower me to take care of the house. Right after we moved in, the pipes froze, and we had some other problems. Being handy is something that was never taught to girls (other than with needle and thread or in the kitchen), and I realized this would be very valuable knowledge to have.
When asked what was the most "handy" job she had tried before taking these classes, Priyanka laughed. "I changed a light bulb, removed hair from the drain, put a nail in the wall to hang a picture, and painted a room – very sloppily, I might add!" Since she started taking classes, she's tried an impressive list of "handy" jobs:
helped fix and replace an entire garage door opening device (motor and spring)

removed an old fan; installed and moved a new fan to the center of the room (cutting some 2x4s to help create extra support in the attic)

patched drywall

removed wallpaper

applied primer and painted

made a bird house, stained, painted and weatherproofed it

Simple things like hanging a full mirror, putting up shelves on the wall – with an impact drill, measuring etc.
Priyanka is enthusiastic about the long list of projects she and Ryan want to tackle in their new home. "The classes are wonderful: they have given me confidence with power tools, knowledge to know what I am talking about to experts in the field, and the ability to plan and execute projects with minimum help." What else has she gotten from the Women's Home How-To classes? Priyanka smiles. "They've helped me build connections with other amazing women who are looking for the same things! They have helped me so much. I have to say also I amaze pretty much everyone with everything I've learned… homes and living places are something which everyone has and needs, but few have the knowledge to maintain them."
Her advice to women who own a home but don't know much about doing repairs? Simple.  "Definitely take one class on repairs; it's important to know quick fixes. Although having someone do all the work is easy and sometimes affordable, it's good to have some knowledge about what's wrong. Also I find that it's a good thing to know during emergencies; you don't want to feel helpless and clueless."
This is a wise – and talented – woman!