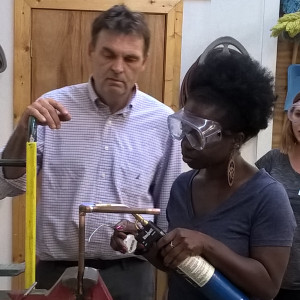 Andy Wyatt, Senior Advisor at WyattWorks Plumbing, is a new instructor for Home Repair Resource Center. Asked how he got into the plumbing business, Andy started looking back.
"38 years ago I was at Kent State University, studying Radio and Film, my lifelong dream. Life was good, but money was short. I heard of a plumber looking for a part time helper, and I was hired by Lee, who worked with his dad Aaron in a two-truck family business. We climbed in his red van, drove to the first job, and installed a water heater. 
"There was something practical and satisfying about driving around the city, chatting and planning, visiting with all sorts of people, exploring their attics and basements, their closets and bathrooms, and ultimately solving a problem and making them happy. It felt good, and I found this new experience complimentary to my studies at KSU. 
"Then Lee's father died suddenly, and everything changed. A new career had been dropped in my lap: Aaron's work load became mine. Together, Lee and I continued to run the family business while I attended Kent. Eventually Lee became disillusioned, and he offered it all to me – the trucks, the inventory, the phone number, and the customers. I didn't go back to Kent State that semester. Instead I climbed into a red plumbing truck and headed off to the next basement. WyattWorks Plumbing was born. 
Over the years my sons would ride along, and my wife Ruth would answer the phone – a true Mom and Pop operation. Today the business has grown. The two boys drive trucks 1 and 2 of our 5-truck fleet. Ruth manages two women in the office, and I am now "Senior Advisor," teaching women how to solder pipe in my spare time."   
Andy got a call in August from Pam Wetherill, HRRC's education coordinator, asking if he would teach a plumbing class for a Home How-To women's repair course. Andy smiled, "That sounded fun, so I accepted. I've always enjoyed answering questions and showing others how to do what we do." 
Andy arrived early for his first class, where they would solder copper pipe. He recalls, "One by one the women trickled in. Each came with a different objective – from a young Tremont homemaker hoping to remodel a bathroom, to those who were content to simply watch and learn.  
"I wanted each one to successfully solder a copper fitting. Every woman stepped up and took her turn cutting, cleaning, preparing, and using the torch to solder our 'abstract expressionistic copper plumbing sculpture.' I was impressed with the finished product. Most of the solder joints looked as good – or better – than many I have seen over the past 35 years."
When Andy returned to teach another class two weeks later, he decided to have the women figure out how to pressure test the pipe to if their fittings leaked. "Again, each woman did her part. They found the main shut-off valve in the scary basement. They climbed under the sink and jerry-rigged a connection to the cold water. They hooked up a hose and pressure tested the solders. Only one of the fittings leaked, so someone got out the torch and solder and made the necessary repair. It was real-world plumbing, done by nonprofessionals. Everyone loved it. The woman were all troopers, and quite skilled, I might add!"
Andy encourages others in the trades to get involved and teach a class. In his opinion, the women are not the only ones who benefit. "Some of the questions I fielded help me to take a step back and rethink a few things. Teaching is one of the best ways to learn."
Thank you, Andy, for donating your time and your expertise, and for helping Home Repair Resource Center fulfill its mission!