Tool Library
Become A Member – Borrow Tools – Make Your Own Home Repairs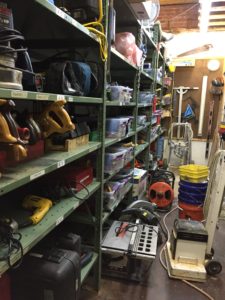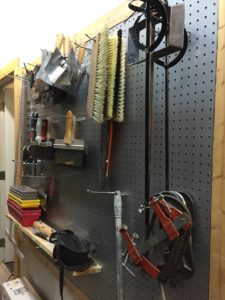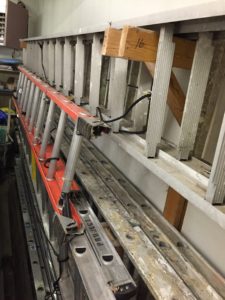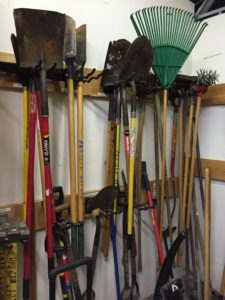 Click Here to see every tool we have in our library. Members can also renew and reserve tools
Tool Library Open Hours
Monday: 1:00 pm – 7:00 pm
Tuesday: 1:00 pm – 7:00 pm
Wednesday: 10:00 am – 7:00 pm
*Walk-ins Welcome*
Annual Cost of Membership
Regular Member:  $25
Sustaining Member:  $50,  $75,  or $100
Sustaining Members are our backbones!  Your extra dollars provide financial stability to this shared community resource.  Please become a Sustaining Member today!
Contact Us
2520 Noble Rd.
Cleveland Heights, OH 44121
toollibrary@hrrc-ch.org
fax: (216) 381-6683
phone: (216) 381-6100 x 16
Who is Eligible for Membership?
To be eligible for Tool Library Membership, you must be one of these:
A student of HRRC's Home Repair Classes (excluding free talks)

A student who completed HRRC's Home Buyer series

A resident of one of our partner cities:

Cleveland Heights

Shaker Heights

Euclid

Plus More!  Call our office to see if you qualify. Or submit an application to see.
⇒  All members must be 18 years of age or older
⇒  Landlords and multiple-property owners are eligible for membership to maintain their properties (if they meet one of the above requirements)
⇒  Contractors are not allowed to use library tools for jobs. They may use it for their own living space (if they meet one of the above requirements)
Other Possible Fees
See User Agreement for explanation
Cleaning Fee: $5 per dirty tool
Late Fees
Hand tools: $0.50 per day
Power tools: $1.00 per day
Priced tools: same charge as 1 week loan
Repair Fee: Varies

How to Become a Member?
Click on the Application above to apply.
Complete a Tool Library Application and submit it to HRRC by email, fax, mail, or in-person.

HRRC Staff will check your application for eligibility and approve or deny it.

If approved, we will give you instructions on how to pay your yearly Membership Dues by cash, card, or check.

Begin checking tools out. You can reserve and renew tools on our online catalog.

Once a year, we will bug you to update your contact info and pay yearly Membership Dues.  
It is possible to complete all initial steps at once and borrow tools in the same trip.  Our application process is quick. Walk-ins are welcome during Tool Library Open Hours.
All members must show a picture ID when picking tools up to borrow.  This protects your account.
---
*Note: Our application asks for multiple pieces of identifying information.  Please do not feel offended.  We do this so we can responsibly manage this shared community resource.  Many of our tools are expensive to buy and maintain.  To prevent theft, and hold our members accountable to the whole community, we keep identifying records on our membership and tool inventory.  We do not share your private information with anyone.*

How Does it Work?
Click on the User Agreement above for everything you need to know.  Here is a short list:
Our tool inventory consists of hundreds of tools.  Most tools are FREE to borrow. Few high-maintenance tools cost money to borrow, but at low prices.  See our online tool catalog for specific pricing.

Tools are checked out and returned during open hours only.

All tools are loaned for 7-day time periods.  You can return tools early.  

If tools are returned past their due date, you will be charged late fees.

You may renew tools online, by phone, or in-person, as long as they are not reserved.

If tools are returned dirty or broken (beyond normal wear & tear), you will be charge cleaning or repair fees.

HRRC staff keep all tools repaired and maintained for community use. Please know the extra fees we charge pay for this upkeep.

You must purchase your own consumables – tools do not include disposable parts: power saw blades, sandpaper, vacuum filters, grinding wheels, etc.  These are indicated on the online tool catalog.

We also provide free in-person tutorials on how to use library tools, and we have "how-to" handouts for specific projects.